When the homeowner commissioned Mancini Made to build their dream, they wanted to make a statement. And a statement this is. With thoughtful, luxury style on a grand scale, and with Trend helping make it possible with a curated selection of windows and doors, this home on Sussex Street is a paragon of modern luxury and enviable liveability. As Anthony Mancini, co-director of Mancini Made, tells us, "When you walk through the front door, you get a really special feeling. It's simply grand."
Builder Mancini Made
Photographer Peter Clarke
Products Quantum Windows and Doors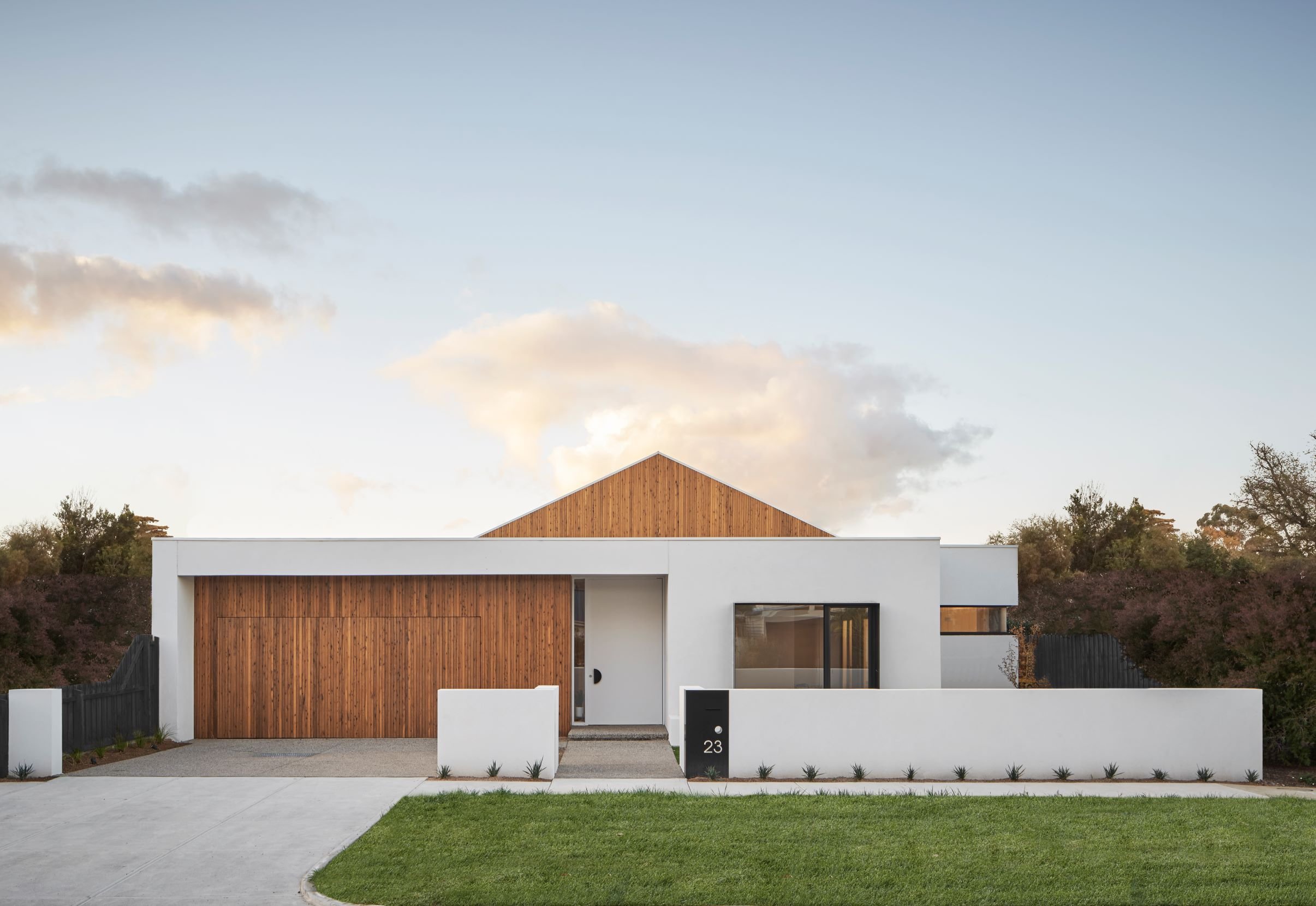 This house is more than a home; it's an entertainment hub for the adults and a castle for the homeowner's young children. It's a place designed for a growing family, for the kids and adults alike to revel in open cross-ventilated and vibrant spaces, thanks to some special features brought to life with the help of Trend.
"The client's brief was clear. He wanted a big, expansive home. He wanted to have all the amenity for his young kids to enjoy and grow in. And his special requirement was that he wanted it all on a single storey. So that's quite unique," says Anthony. Thankfully, a large block of land – which, for the home owner, was a priority – made this possible. "We were lucky to have this canvas, because normally you don't have the luxury of having this much land," Anthony adds.
"He wanted a home that was open, expansive, with natural light and cross ventilation. He wanted it to be like a glasshouse. And he wanted his home to be timeless and contemporary," says Anthony.
A big focus of the brief was to create a home where the homeowner could entertain. This led to the creation of a dedicated entertaining space for gatherings, which doubles as the exquisite focal point of the home.
"With the cavity door to the rest of the home closed and the Trend windows and doors open, the kitchen and living area become an indoor-outdoor entertaining hub. It's perfect. It's exactly what he wanted," says Anthony.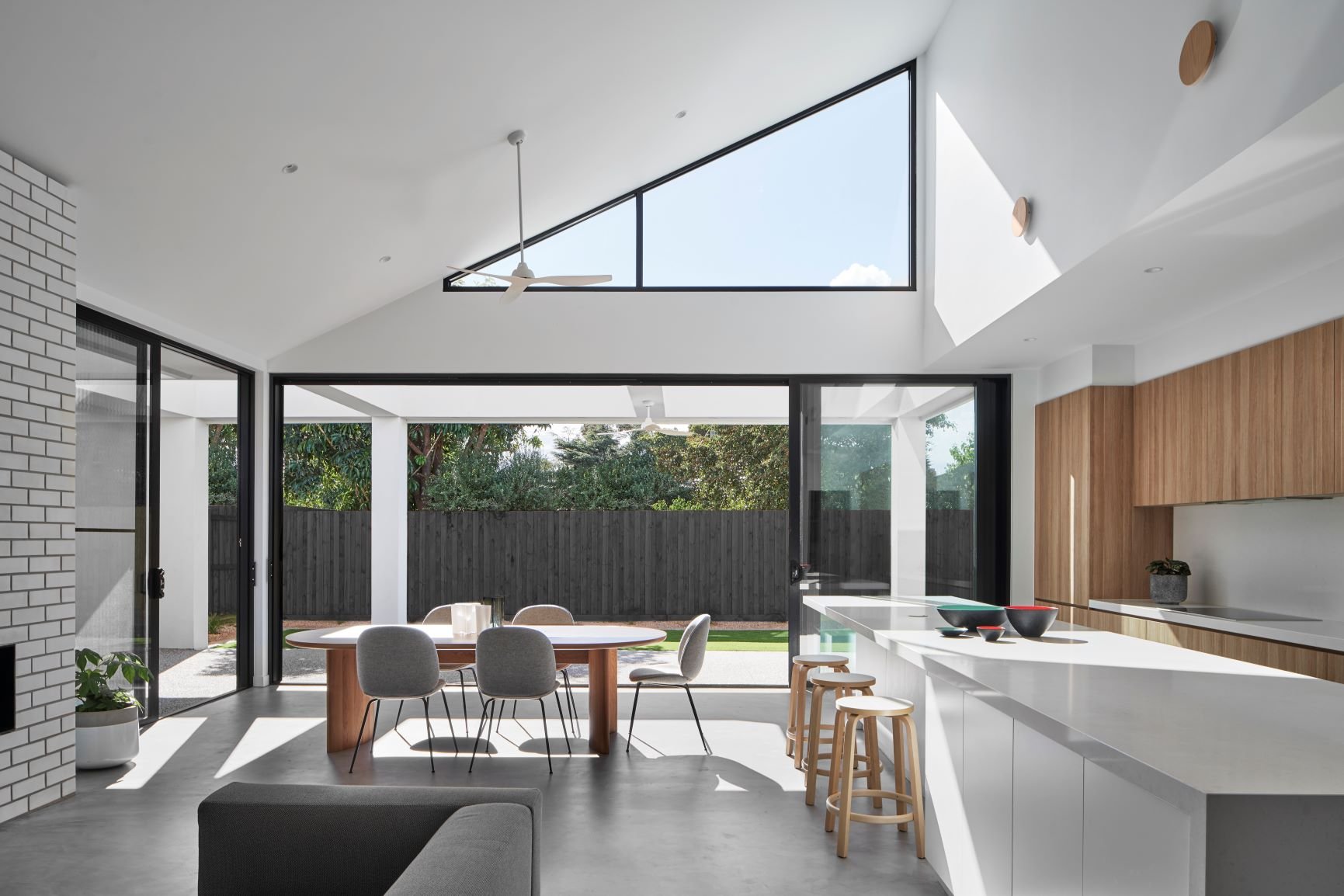 Trend was integral in making this dedicated entertaining area match the client's vision: expansive and with intuitive access to the outdoors. "The kitchen itself is ten metres long, and the island bench is eight metres long. When you're in there, you get a sense of how grand the home is," says Anthony. "Featuring soaring double-height internal gable ceilings with large, triangular windows, it's really something else. You just don't see this in a lot of residential homes," he adds.
It's Trend's quality and ability to work with a custom build likes this that made it an easy choice for Mancini Made. "We approached Trend because their commercial system was suitable. We knew that one of the elements of the design was opening all doors to create that smooth indoor-outdoor transition," says Anthony. Trend products play a key role in the iconic entertaining space and across the home.
"The client wanted as much glass and as many sliding doors as possible."
Anthony Mancini, Director, Mancini Made.
The door that opens the living and dining area to the outdoors is one of the project's icons. As Anthony explains, "We went with a triple stacking door, a commercial frame by Trend. Not many companies can produce that and, if they do, it's not to the quality that Trend produces." Adjacent to this is a sliding door. Together, they work to open up the whole corner of the home to fresh air and outdoor access. "There's literally more glass than plaster here," says Anthony, describing this stunning feature of the home.
"As soon as you walk in, you know you're walking into something special. Once inside and into that open area, you feel immediate comfort, luxury, immense space. It's a grand home of excellence and difference," says Anthony.
And the design is working perfectly for the residents; Anthony tells us, "I've visited the home a few times, and every time I'm there, the doors and windows are open, so you can tell that it is something they're happy with."
"It's exactly what he wanted. He wanted cross flow, natural light, expansive spaces and an entertainment area."
Anthony Mancini, Director, Mancini Made.
Explore More Homes Featuring Trend Windows and Doors
Attach Documents
(Plans, Reports, Photos)
---
Product Selection Summary
No products in the Quote Drawer.
Thank you for your quote request.
We look forward to helping you with your project.
Next Steps:
You will receive an email confirming your enquiry number.
A Trend team member will contact you within two business days to discuss your project.