With a vision of a light-filled haven for hanging the homeowner's art, the previously humble Agars St cottage has been transformed into a beautiful, open, modern family home. Designed to capture natural light and gentle breezes, the home has the feel of a coastal getaway, despite being a stone's throw from Brisbane's CBD.
Designer Harris Designs
Builder Allen Brothers Constructions
Photographer Cam Murchison Photography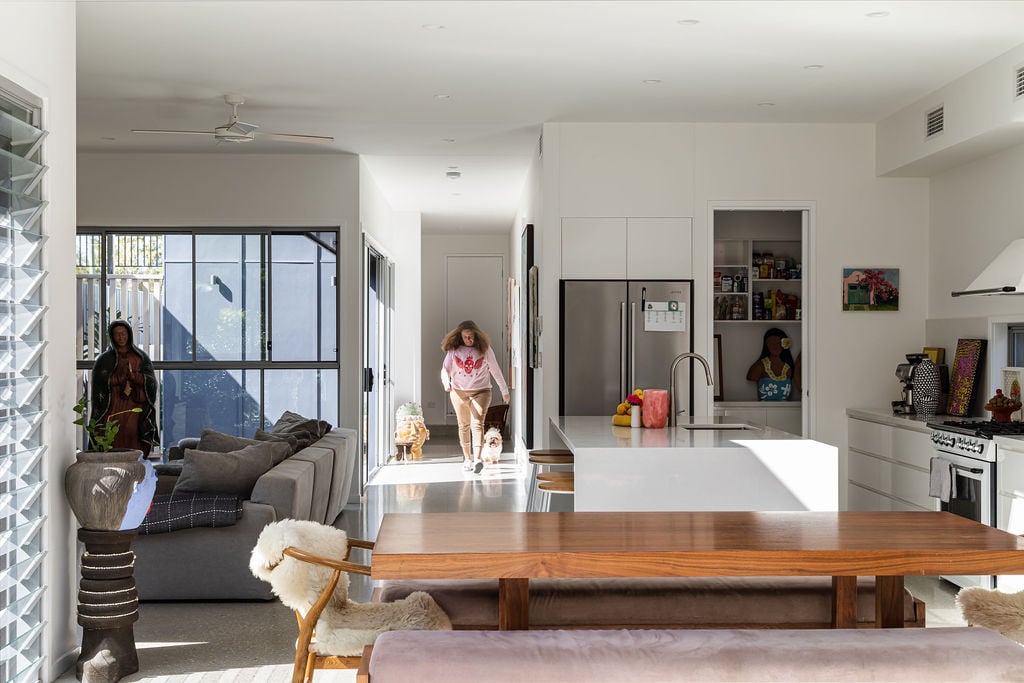 After a bad experience living in a sprawling old farmhouse that was a "money pit", homeowner Nicole and her husband wanted a home fit for purpose. Embarking on the renovation of a small cottage they owned in Paddington, Brisbane, the plan was ambitious. They wanted to transform the pre-war cottage into an open-plan, light-filled home that encompassed their love of gardening, art and entertaining.
Paddington is home to many heritage-listed cottages, so renovating with the restrictions involved in a heritage overlay can be quite testing. The aim was to merge the traditional cottage with a fresh modern aesthetic in a way that wasn't jarring.
The challenges didn't end there, with the areas unique terrain creating extra limitations.
"The initial plan was on the ground because we wanted to be able to walk straight outside," says Nicole. "Then council came back at the last minute and said, 'No. You need to raise it two meters off the ground because of the waterways.'"
But the team of owners, designer John Harris (Harris Designs) and builders (Allen Brothers Construction) took it in their stride.
The entrance is now at the side of the house, a quirk of raising the structure that they've embraced. Viewing it from the outside, the traditional façade belies the modern interior – and entering the property is a surprising experience. Thanks to north-facing Trend sliding doors that open up to a courtyard, visitors are ensconced in light. The green nook, created for Nicole's gardener husband, is described by Fraser as a "sunken down outdoor lounge room."
"Everyone who walks in goes, 'Oh, my God! You wouldn't even know that this is here. It's like an oasis in the middle of suburbia."
Nicole, Homeowner.
Growing up in Tasmania, Nicole had a very creative family - her grandmother a watercolourist and her uncle a well-known architect. "I grew up in a house that was all white, all light, went out into the Derwent [River], and there was art everywhere." That upbringing influenced the concept behind the renovation. The design was simplistic to showcase the artwork Nicole has been collecting since she was a teenager. She wanted white walls throughout the house, especially the long galley walkway which has 11 large art pieces.
"It's almost like a mini gallery… I always knew it was going to be simple. All glass, concrete floors. Really open downstairs," says Nicole. Given the focus on light and open-ness, as well as the climate, selecting the right window and door products was essential for this job.
Nicole says budget constraints also caused challenges at the beginning. "We were on a really tight budget… some of the quotes we started getting in were a million apart. It was ridiculous." Fraser knew that Trend had plenty of options to deliver. "We knew that Trend would be a good fit for that budget and that style they were going for. We've been using them for years." The owners also wanted to have a light-filled home without having to compromise on privacy.
Fraser explains: "Paddington is pretty built in. I think what they've done really, really well is catching a lot of those high windows that throw in a lot of the natural light, but still give them some kind of privacy."
"It really opens up and has a big void up to the second story ceiling, which is all highlight windows." The highlight windows are positioned at a higher level of the room and are wide but short, letting in light while not allowing people to see in.
Utilising a combination of bi-folds and louvres allowed for light and effective ventilation. "At the back, the bi-folds open up. And then two storeys high are louvres, which are amazing. When they're all open, all the hot air rises, it just seeps through," says Nicole.
The result is a breezy family home perfectly suited to a laid-back Queensland style of living and entertaining. Overall, Nicole is so thrilled that she finds it hard to pick her favourite features of the house.
"I think the simplicity. Just the breezes that we get. We've never put the air conditioning on upstairs, and it's so hot up here. All the garden's grown now. When people walk in they go, 'Oh, my God! I feel like I'm at the coast.' It's sort of that coastal Queensland, easy living... I don't even know how else to describe it. Just a relaxed sort of oasis that we're in.
"It's calming. It's exactly what we envisioned."
Explore More Homes Featuring Trend Windows and Doors
Attach Documents
(Plans, Reports, Photos)
---
Product Selection Summary
No products in the Quote Drawer.
Thank you for your quote request.
We look forward to helping you with your project.
Next Steps:
You will receive an email confirming your enquiry number.
A Trend team member will contact you within two business days to discuss your project.