Spurred by a tree change, this home on Tylden's Lowe Street puts a sleek modern spin on converted barn living. Built using rich, contrasting materials, the high ceilings and large windows give the house a spacious feeling indoors and a dramatic street presence.
Builder Wojcicki Constructions
Products Quantum and Synergy Windows and Doors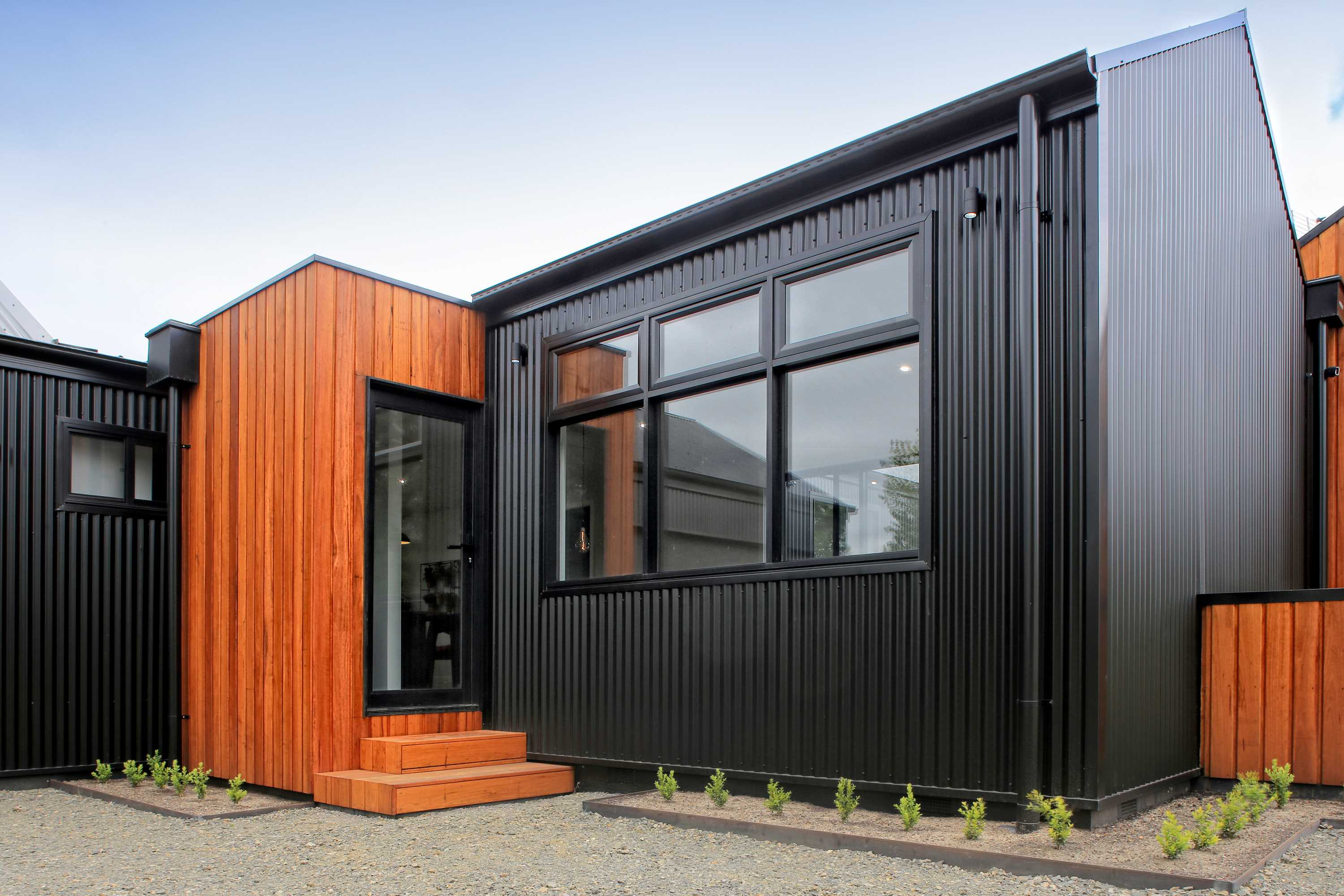 When the homeowners first approached the small team at Wojcicki Constructions, they had twelve months of planning under their belt. Following a cost analysis, the Melbourne couple discovered their plans had devastatingly overshot their budget. They made the difficult decision to scrap the original proposal and start again, this time working with Wojcicki Constructions from the beginning to achieve their dream design.
Of Wojcicki's role in the re-design process, Yuliya Wojcicki, the company's project manager, says, "On this occasion, we helped the clients with the design of their home, and ensured that their project was on budget."
The result is a home that rails against traditional design and champions the privacy of homeowners and guests alike, thanks to an a-typical configuration comprising interlocking buildings that meet at a central kitchen, living and entertaining area. And Wojcicki Constructions' attention to detail and craftmanship shines when looking at the high cathedral-style roof in the bedroom and main living areas, which gives the home a feeling that belies its size.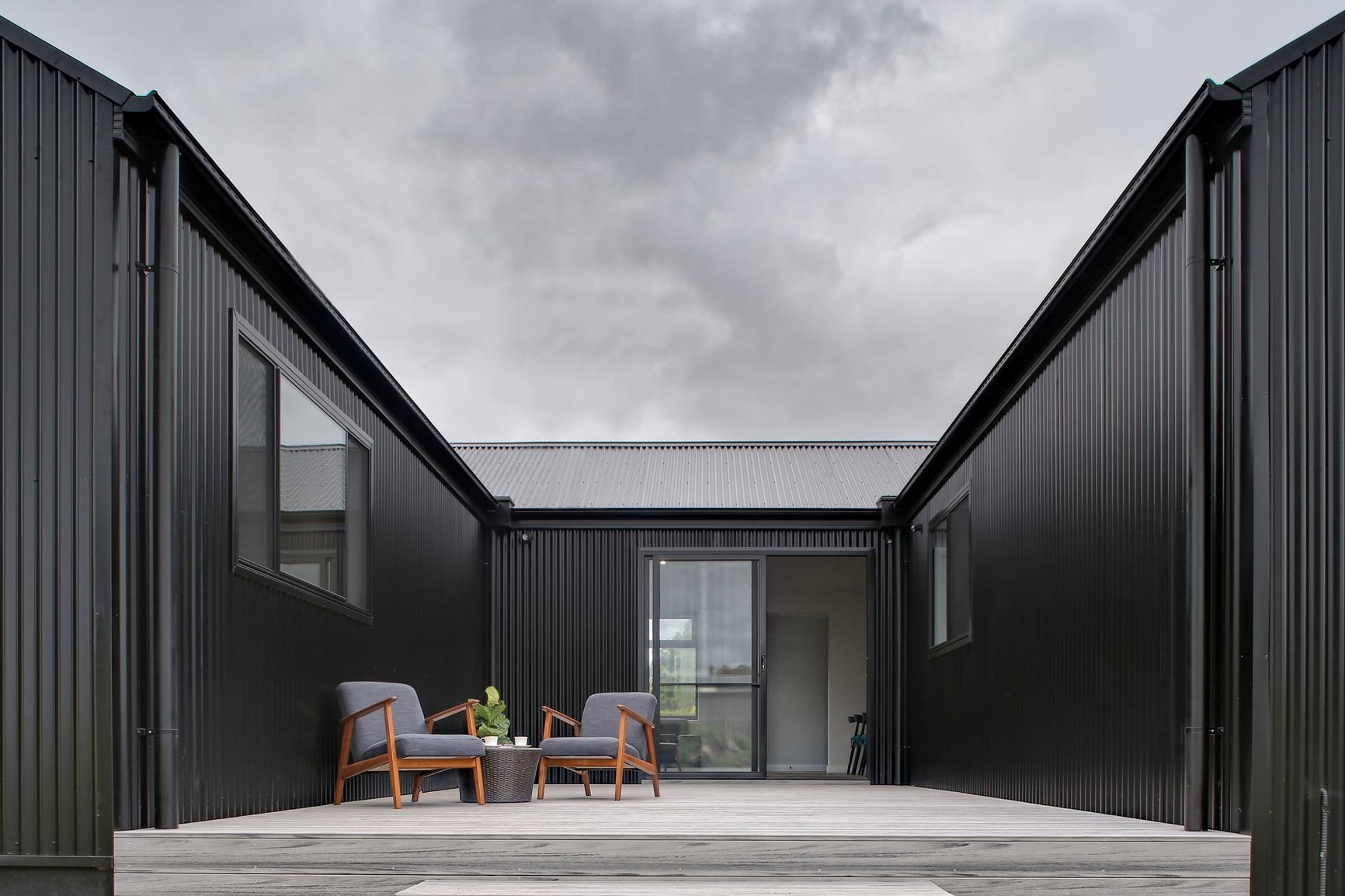 The house, built on a small town-sized block, speaks directly to its surrounding environment. Dark-coloured bond cladding increases heat absorbency for the bitter winters, while large sliding doors and windows at opposite ends of the house enable generous cross-ventilation, allowing the home to 'breathe' and harness a natural cooling system.
"It is a very liveable and vibrant space with lots of natural lighting and heating," Yuliya tells us. "We recently visited the project, and we're glad to hear that they have found the home very warm in the winter and that it requires very little heating. It is also very comfortable and cool during summer, easy to cool down and keep the fresh country air circulating through the home."
Striking a balance between aesthetic and function is always tricky for those looking to design their dream home. "Lots of clients have a very clear idea of what window style they would like, and how windows look in terms of aesthetics or street view," Yuliya says, "But we always push the clients to keep in mind the cross-ventilation. Sometimes, it's much easier to achieve with sliding doors and windows. Not all clients understand cross-ventilation and how it works and that it saves them money at the end of the day. This is much easier to do if we're involved from the design stage."
Using two different ranges from Trend allowed Wojcicki's clients to maintain their original design and stay within budget. The Quantum range, used for all front-facing sliding doors and windows, gives the home an architectural look and a larger-than-life feeling. While the Synergy range, used for the back of the home, allowed the homeowner to stay within budget without sacrificing aesthetics. All windows and doors are constructed with a special aluminium mesh to ensure safety in the home's bushfire-prone region.
As for Yuliya's favourite part about this build? "It has to be their kitchen, dining, living area. It is a nice area with lots of sunlight. The shiplap style ceiling gives the home light and space. It feels much larger than what it is."
Explore More Homes Featuring Trend Windows and Doors
Attach Documents
(Plans, Reports, Photos)
---
Product Selection Summary
No products in the Quote Drawer.
Thank you for your quote request.
We look forward to helping you with your project.
Next Steps:
You will receive an email confirming your enquiry number.
A Trend team member will contact you within two business days to discuss your project.