The Tawarri home by JTech Design & Construct commands attention and intrigue with its bold stature and contrasting colours. The softer elements – rendered brickwork, landscaped greenery and white picket fence – honour its Gold Coast location and balance the daring volume and dark cladding of the floating upper-level.
Builder JTech Design & Construct
Designer Reece Keil
Photographer Andy Macpherson
Products Quantum Windows and Doors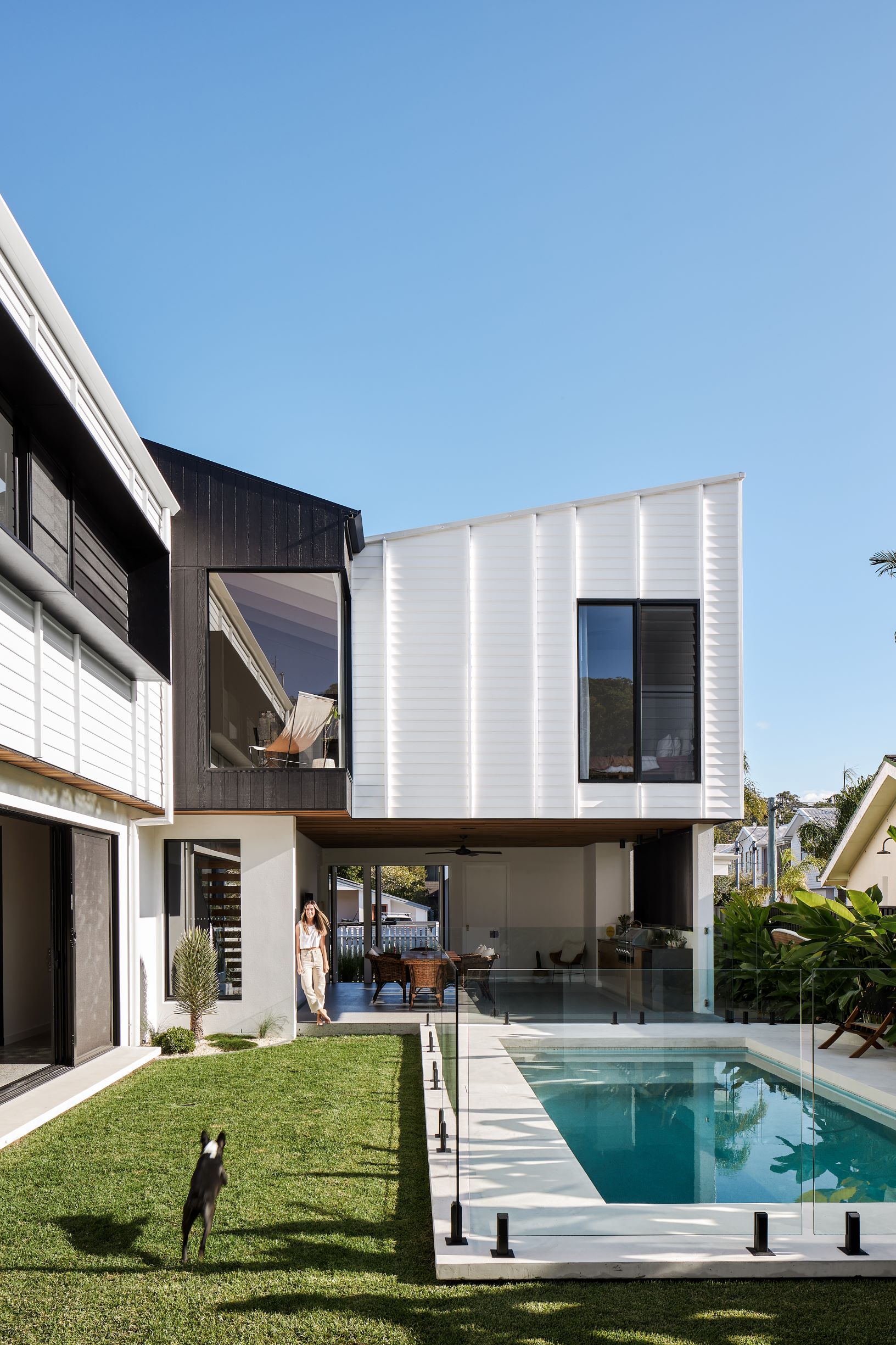 The house was built by Josh Torney and Joelle Setiawan with the help of building designer Reece Keil. An experienced couple when it comes to design, Josh is owner of JTech Design & Construct, and Joelle manages interior design and staging for the company. They had a vision to create a statement with the outside appearance, while keeping the interior functional and liveable - true to the couple's unique style.
Including the purchase of the site (and knock-down of an existing structure) the home was designed and built with a $2.5 million budget. It took eight months of planning and design, and ten months to complete the two-storey, six-bedroom build. From early planning stages, the team worked together closely. Josh and Reece would meet on-site, sit on the roof of the original 1960s dwelling and plan the prime orientation for the new home in intricate detail. The consideration of light and how it impacts the living spaces had to be perfect.
The block is a modest 530m2 and the home itself is 420m2. To maximise available space, the indoor and outdoor entertaining areas were designed to merge seamlessly. One of the perks of living on the Gold Coast is that the alfresco area can be utilised almost year-round, creating the ideal lifestyle for warm weather relaxation.
Inside, there are high ceilings, timber panels, exposed brickwork and polished concrete floors. The central living zone is fitted with Quantum stacking doors that let in ample natural light through a north-east aspect.
A feature stone wall and floating American Oak staircase lead to the first-floor landing. Here, a large Quantum corner window floods the space with light and offers peaceful views of the surrounding bushland and pool. The combination of expansive windows and 4.5m exposed-rafter ceilings make the sitting area and open hallway with built-in banquette seating feel like they are up in the clouds.
A key feature of any coastal property is ventilation – ocean breezes have been shown to aid relaxation and offer benefits to respiratory health. To allow the soothing sea air into the home, JTech Design & Construct ensured every openable window is a Breezway louvre window. Louvre windows are ideal for maximising and directing airflow due to their easy-to-open functionality and angled blades.
With coastal-inspired landscaping, peaceful first-floor views and tactile materials used throughout, Tawarri home feels like an extension of its natural surroundings. And the expertise that went into crafting this home ensures that it is a striking, precisely crafted, private escape.
Explore More Homes Featuring Trend Windows and Doors
Attach Documents
(Plans, Reports, Photos)
---
Product Selection Summary
No products in the Quote Drawer.
Thank you for your quote request.
We look forward to helping you with your project.
Next Steps:
You will receive an email confirming your enquiry number.
A Trend team member will contact you within two business days to discuss your project.