An architecturally designed house as a first home? Seems like an impossible dream. Yet when first-home builders Ryan and Tiff commissioned Happy Haus to help create their first home, the dream became a reality. With Trend's help, Happy Haus has made a beautiful minimalist and modernist home without blowing the budget. As Lachlan Grant, Managing Director of Happy Haus, describes, it's "architecture in the suburbs."
Builder and Designer Happy Haus
Photographer Andy Macpherson
Products Quantum and Synergy Windows and Doors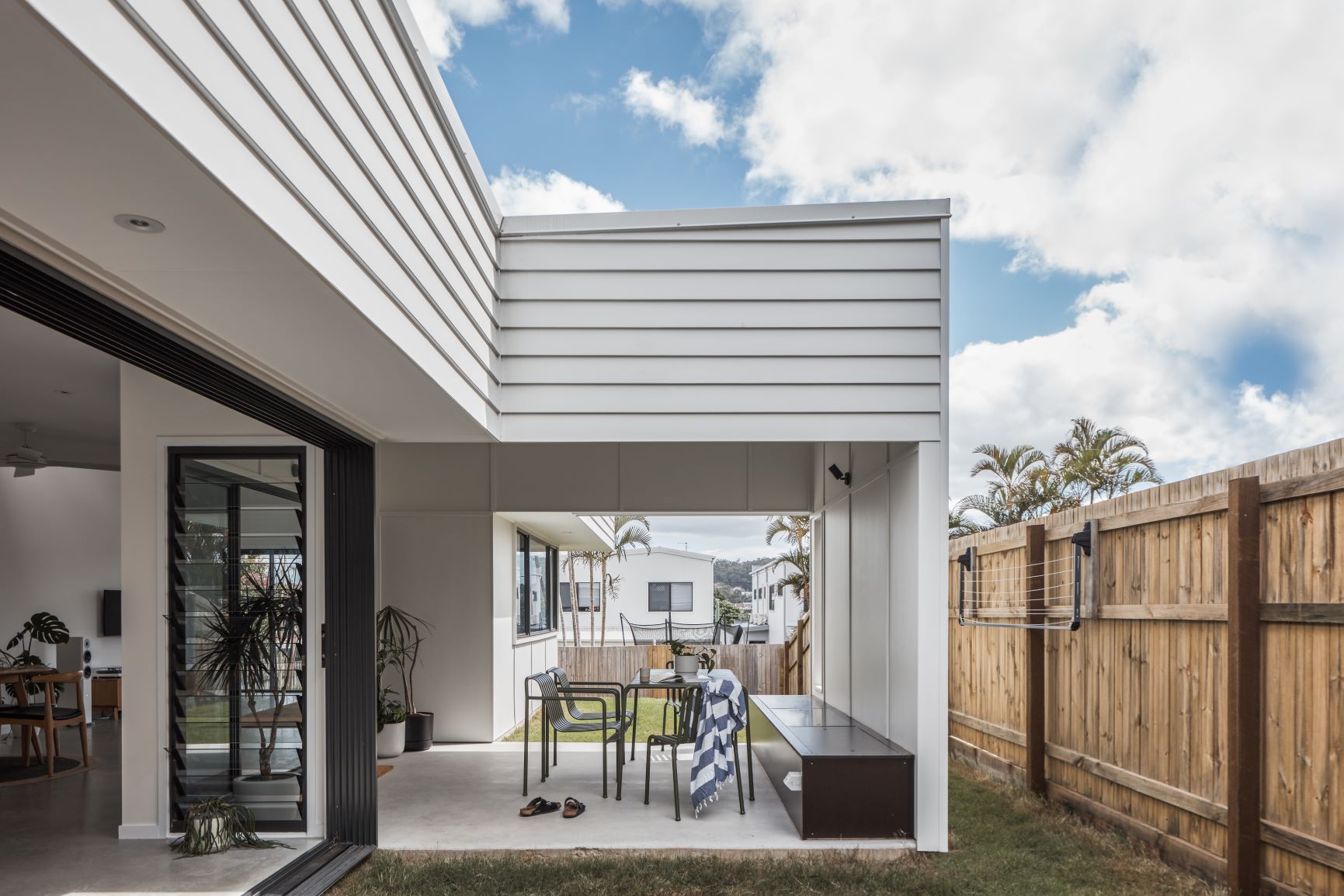 The brief came from two young creatives who knew what they wanted. "They are very engaged with a design aesthetic, and they value that design experience across all facets of their life," Lachlan Grant, Managing Director of Happy Haus, explains. "Ryan works in financing sustainable building projects, while Tiff has her own café – she's a coffee aficionado," he tells us. They were making a burb-change from the city to the suburbs. "What they wanted was to bring that inner-city way of living to their future home," says Lachlan.
Ryan and Tiff wanted a home that reflected their ideals. "To them, it was important to create a home with architectural principles: a great level of finish, design integrity, a home climatically responsible and sustainable," says Lachlan. Despite a small block size in their chosen location, they were devoted to sticking to a single-level layout. Rather than building up, as Lachlan says, "They were prepared to have a smaller, well-designed home instead of a big McMansion."
"They're minimalists," Lachlan tell us, "They're all about clean lines and hard surfaces. They wanted things to be in their place, so everything was designed to have its place in the home. It's so well thought out, they even had furniture measurements of what they were going to buy. So really, the whole ethos of the design is just fit-for-purpose."
With limited space and a devotion to minimalism, the architects turned to Trend windows and doors to elevate the design. The focus: light, ventilation and smart use of space. The result? A classic minimalist home: polished concrete floors, white, black, monochrome throughout and abundant light plus truly functional liveability.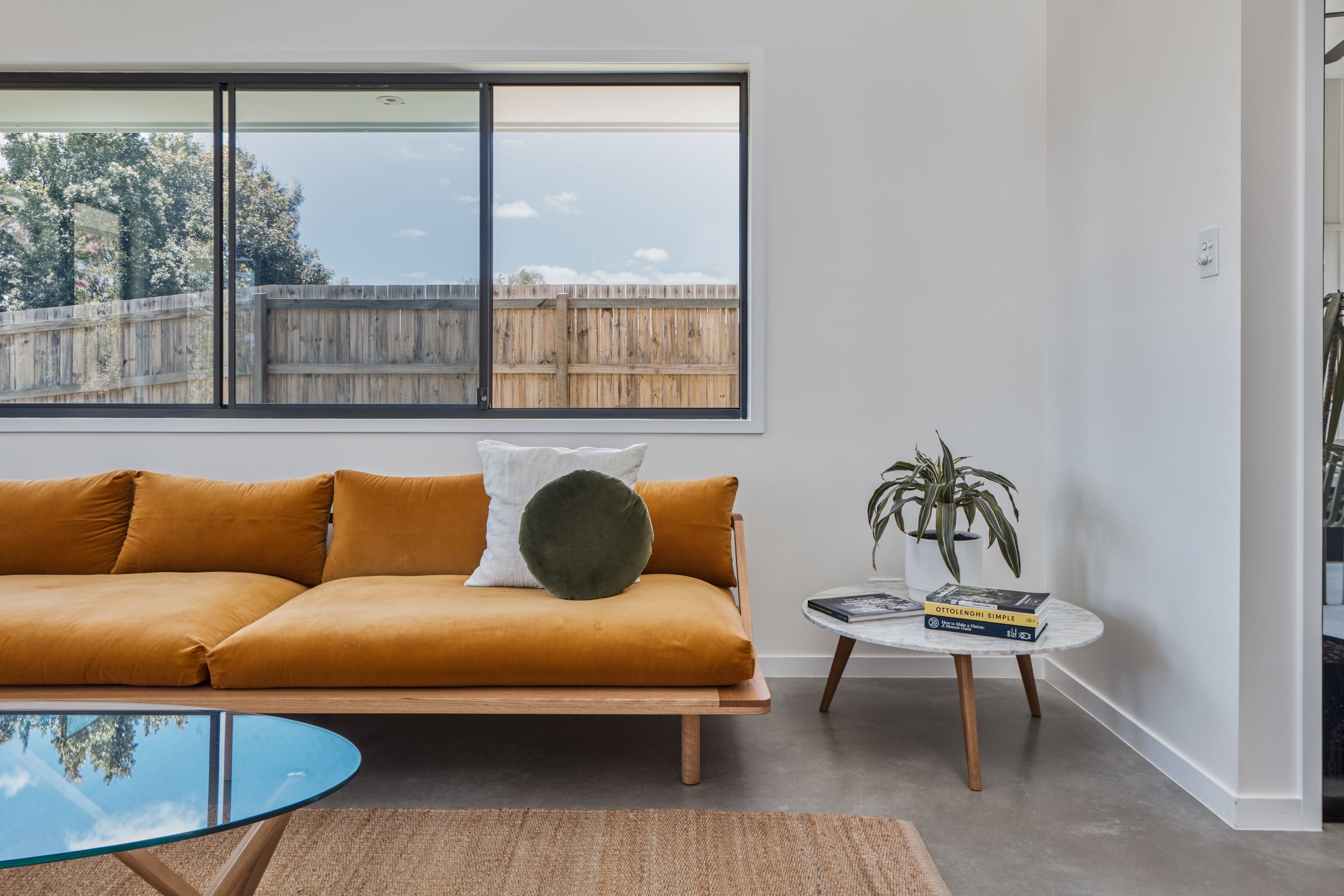 With large Quantum stacker doors from Trend, this customisable space opens to become part of the garden, blurring the line between indoors and out. And all without racking up the kind of astronomical architectural costs that can come by building bespoke.
"It's like making a wall out of glazing and being able to remove that wall when you want to," says Lachlan. Ordinarily, such a beautiful, functional element might require structural glazing, but here it was made possible with Trend. Across the entire home, Trend windows and doors play a pivotal role in creating a sense of space on a smaller footprint while offering fresh air and abundant light.
"We have a beautiful window system in a raking ceiling in the living room. Even though it is a small house, the volume that creates makes it feel like a much larger space," Lachlan tells us. "The rear of the home faces south, so we popped up the ceiling to get northern light through a unique window system," he adds. This system features a fixed window and a Breezway louvre in combination.
In fact, Trend products feature across the entire build. "We used the whole Trend product range", says Lachlan, "it's about mixing and coupling different window models to create an outcome that might be otherwise more expensive in a full architectural commission. We've used stacker doors, we've used sliding windows, we've used louvre windows, and more. We love the Synergy range because the profiling is thin – and getting those thinner lines in the windows makes for better views out to the surrounds."
Considered placement, design and product selection was key to enhance the home's liveability, along with thought for the climate. "Since we're in a subtropical environment here in Brisbane, we created deep overhangs to shade windows. And we made sure we had cross-ventilation." To enhance the insulation qualities of the windows, Lachlan tells us, "They chose to upgrade the glass to the Low E glazing. The Low E glazing has a much better ability to reflect the heat and the UV rays out of the house."
While terms like 'minimalist' or 'small footprint' might be read as a compromise, this Henson Haus is anything but. It's a beautiful, unique home to live and love.
Explore More Homes Featuring Trend Windows and Doors
Attach Documents
(Plans, Reports, Photos)
---
Product Selection Summary
No products in the Quote Drawer.
Thank you for your quote request.
We look forward to helping you with your project.
Next Steps:
You will receive an email confirming your enquiry number.
A Trend team member will contact you within two business days to discuss your project.